Benedetto's Ristorante Italiano or also known as just Benedetto's, has been rated by many as the best Italian Restaurant in Tampa and to some, the best kept secret around Tampa Bay in fine dining and value. 
"Farmer Ben" To CHEF BEN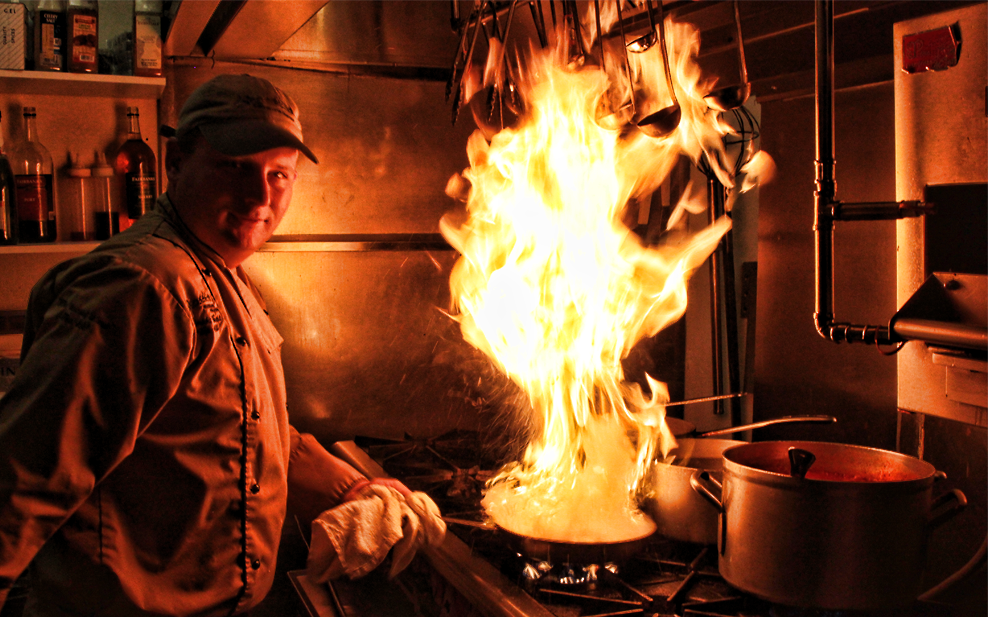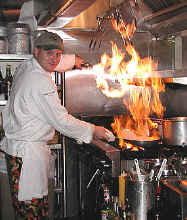 Benedetto's  Ristorante Italiano is a Chef owned and family operated by Chef Ben Pumo and his Wife Elizabeth and daughter Alyssa.  It all started 19 years ago when Chef ben got a job washing dishes at a area restaurant.
Within one years time chef Ben and Elizabeth opened their first 28 seat restaurant in May of 2000. In 8 short months the where a big hit, and purchased the building they are in now in 2001. 
Benedetto's serves Northern and Italian Cuisine with a large emphasis on Domestic and New England Seafood.
They serve Wild game such as elk, kangaroo, bison, rabbit, quail, and ostrich.
They even have a Trio wild game platter so u can try whats featured that evening. 
True Farm To Table Dining   
Not only does Benedetto's source most of its seafood directly from Florida, but they also have their own farm.
Chef Ben tends to the 6,000 plant garden that provides our lettuces, pepper, tomatoes, mushrooms, and many other items directly from their own farm and other local area farms such as  RNJ Aquaponics farm https://www.facebook.com/RNJFarm/ Aquaponic that grows green house produce specifically for Benedetto's.
Farmer Ben takes great pride in planting, picking, then cooking that very same item, to serve to you from our farm to your table at Benedetto's. 
Authentic New York Style Italian Restaurant in Tampa that speaks volumes when it comes to fresh seafood, pasta dishes, and steaks. Numerous awards and accolades have been given to this Tampa Bay Italian restaurant and is known for the amazing freshness of the food, impeccable customer service, and the best value in fine dining in Tampa, FL.
Although the prices are a slightly higher at Benedetto's Ristorante Italiano, you will find that the quality super-cedes any expectations and the value will shine through the service, entertainment, and of course the freshness of the gourmet food. A lot of effort goes into finding and preparing the seafood, pasta, and beef to serve you.
We are the only restaurant in Tampa that provides live entertainment from our piano bar 7 days a week.  The "Rat Pack" era of Frank Sinatra fills the walls and is accompanied by the old school New York Style Italian feel as many of our patrons say it reminds them of "home".
RECENT MEDIA COVERAGE OF BENEDETTO'S AND FARM TO TABLE:
TIRED OF CHAIN FOOD? WE MAKE IT FRESH!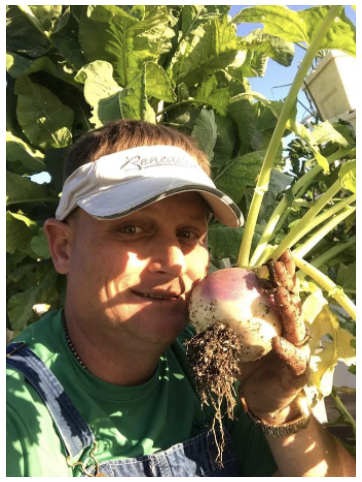 Ask him what he's most proud of about his family-owned and operated Italian restaurant in Land O' Lakes, and owner Ben Pumo will tell you it's his family garden.
For nearly two decades, award-winning Benedetto's Ristorante Italianio has won the hearts – and taste buds – of its cstomers with its fresh flavors and authentic New York-style Italian cuisine. But what many diners don't know is that their meal is truly home grown.
Chef Pumo ventured into hydroponic gardening this spring inspired by a desire to take his passion for cooking to the next level. Housed on a handful of acres of land in East Pasco that's been in the family since the 1850's, Chef Ben and his family team,   is already harvesting beautiful green peppers, red Russian kale, black pearl kale, t100 cherry tomatoes and much more. Seasonal Banana trees produce the filling for Pumo's popular banana cream cake, and fresh basil, cilantro, rosemary, lemon balm, and fresh oregano is what can be tasted throughout his sauces makes his pesto pop.
"I have to say, the experience of planting our own seeds, picking the ripe produce, and prepping the food with our own hands to serve to our customers is what it's all about," says Pumo. "What we're doing is truly farm to table dining at its best."
In addition to homegrown produce, they source their shrimp – the true Key West pinks – locally. Their grouper is always fresh from Florida caught in our DOMESTIC WATERS.

They even source their own cedar planks, and pecan planks from the farm. This adds great earthy flavors that bring your palate right out to the farm.
"I love cooking," says Pumo. "Growing my own ingredients is the best way I know to do justice to the dishes I prepare. Fresh from the farm to the table is the real deal at my restaurant."
Benedetto's is open Wednesday and Thursday from 5 p.m. to 10 p.m., Fridays and Saturdays from 4:00 p.m. to 11 p.m., and Sundays from 4 p.m. to 9 p.m. with live jazz on Saturday and Sunday evenings. Dinner reservations are recommended. Full service catering is also available for private events. For more information, visit www.benedettoitaliano.com or call (813) 909-9694.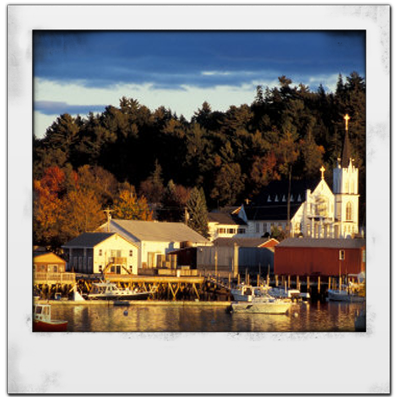 Booth Bay Harbor: in Maine is home to all of Chef Ben's steamer clams and scallops  and even sometimes the bread used to serve official lobster poboys. He flies up every summer to Maine at his summer home to reconnect with the fisherman and to actually fish and harvest his seafood.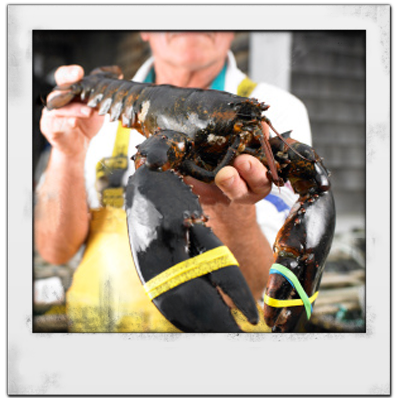 Maine Lobster:  All of our lobster at Benedetto's is fresh and flown in from Maine and is never frozen. We like to say, "the only thing frozen in the freezer is the ice cream!" The cold clean water and rocky bottom in Maine attracts lobster and is the perfect habitat for them to flourish. Chef Ben loves to find the finest "New Shell" lobsters to serve to his patrons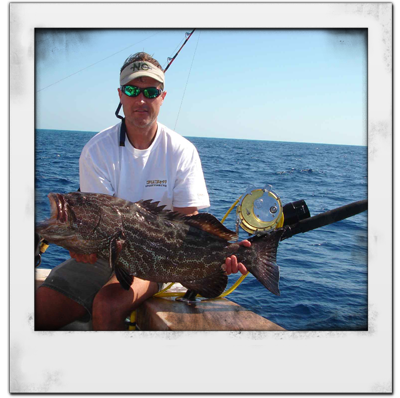 Florida Red and Black Grouper: Benedetto's does not serve Mexican grouper but only the freshest grouper caught right here off our Florida coast and served literally straight from the boat. Daily trips to and from a few of Chef Ben's fisherman friends in Tarpon Springs, Fl provide the quality and value you wont find in just any gourmet restaurant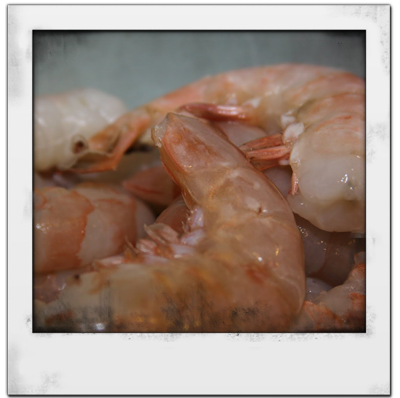 Pink Florida Shrimp: "Pink Hoppers" as they are called to locals, these Florida shrimp are one of a kind and are the only type of shrimp served at Benedetto's. They too are caught locally by fisherman off the gulf of Florida and are delivered fresh daily to Benedetto's. The difference between "pinkies" and tiger shrimp are the their shear size and taste quality – and they weigh in at around 1lb!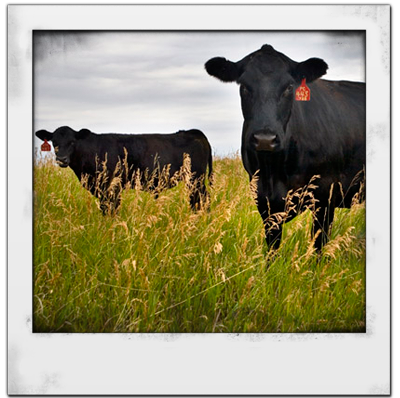 IOWA Premium:  The steaks we serve at Benedetto's are all certified Black Angus steaks and are organically fed to keep any harmful chemicals or fertilizers from tainting the meat. Our #1 source for our beef is IOWA PREMIUM!  Each year, Chef Ben visits the farm for a visit and inspection of the beef house and farm operations.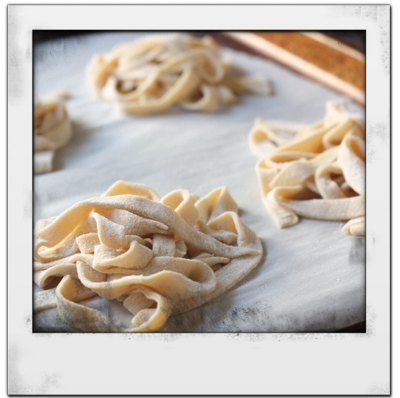 Fresh Rolled Pasta Daily: Along with the fresh seafood and steaks, the pastas we serve at Benedetto's are all hand made, rolled, and treated with love each day. We are known for the tastiest lasagna in Tampa and when our homemade pasta is mixed in a dish with our fresh seafood, watch out!…..you'll experience fireworks in your mouth!