Birthday Party Celebrations Done Right
Dinner with family and friends at a great local restaurant is an age-old tradition.  Any excuse to have great food in a great location with great people is wonderful but celebrating a birthday, especially the big milestone ones, is double cause for a great time! Here at Benedetto's Ristorante, we offer everything you need to make birthday party celebrations one to remember!
Top Tips for a Great Birthday Dinner Outing
Variety – one of the most important things to consider when making your reservations for a big birthday bash is the variety of food that will be available. Most likely, your guests will have very different likes and dislikes so you will want to ensure there are plenty of choices for everyone. Benedetto's has a large and varied menu that is sure to satisfy any taste and need!
Ambiance- setting and the atmosphere of the restaurant is also important. Parties for teens and young adults may be good in a bar like setting. Parties celebrating the big 50 or 60 may be best at a more refined location. Benedetto's Ristorante is a great place for any birthday milestone and our relaxed and comfortable ambiance is great for young and old alike.
Prices- while this may not be a big concern for some most people are still closely watching their dollars so prices may come in to play when people decide whether they can attend the celebration or not. So be sure to consider a price range that accommodates as many people as possible. Our menu is designed to offer something for any budget and to accommodate as many budgets as possible for birthday party celebrations big and small.
Special Offerings- special celebrations need special little touches now and then and we are committed to doing anything we can to make your celebration a great one. Talk to our staff to see what we can do and what special offerings we can provide to your party guests!
Location- depending on how many people are attending, you will want to think about the location of the party and ensure it is not too far for some people to travel. One of the great things about Benedetto's is we are close and well worth a little extra drive for those coming in from out of town!
Service- even the best food, prices, and ambiance will be ruined by poor food and terrible staff. Make sure you choose a place that takes pride in its staff and service. The best places for birthday party celebrations are ones that take care of you and your party guests like family, something we are known for here at Benedetto's.
Quality – ultimately, everything comes down to the quality of the venue you choose for your event. Think about your guests, your wants and needs, and the reputation of the places you are considering as you plan the big birthday events and make the choice that is right for you.
Make Your Reservation Today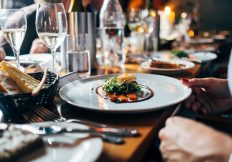 When it comes to birthday party celebrations, Benedetto's Ristorante has years of experience and reputation for quality and excellence in food, service, price, and selection.  If you are looking for the perfect place for your birthday event, call us and make your reservations today!  We would love to help you and your family and friends with any birthday party celebrations you have planned.